FourTelling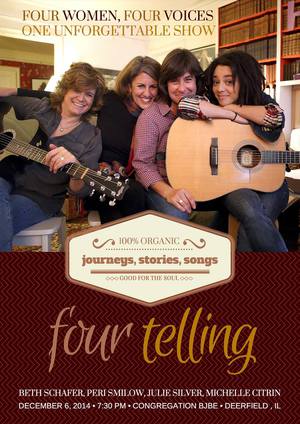 On Saturday evening, December 6th I will be a part of history! On that evening at Congregation BJBE in Deerfield, IL (Chicago) four internationally recognized Jewish music entertainers - all women - will appear together on stage for the very first time! On that evening Julie Silver, Beth Schafer, Michelle Citrin and I will launch an international tour of a show we're calling: FourTelling: journeys, stories & songs. We are so excited about it - and hope that those of you in the Chicago area will join us (you can purchase tickets here: http://bit.ly/FourTelling).

For those a bit farther afield - send me a note from the Contacts section of this website if you might like to be a part of bringing this wonderful evening of stories and song to YOUR community!


Peri Smilow Kickstarter Campaign in support of The Peri Smilow Anthology is launched!!
Thanks for visiting my website!

I'm hoping that you've heard about the launch of my Kickstarter project - a 36-day campaign beginning on June 5th and ending on July 10th!! Together we're raising the $ needed to publish THE PERI SMILOW ANTHOLOGY!!

I'm incredibly jazzed about the Anthology. After 20 years of touring, 4 album releases and 23 original compositions - there's finally going to be a songbook with sheet music (piano/guitar/vocal) and chordster (for you songleaders!) available for all!

One of the things I'm most excited about is that the anthology will also include an appendix with lots of creative ideas and suggestions about how and where to use my music. Religious school educators will be able to hand this section to their teachers for use in their classrooms. Youth leaders will find ways to use my music to attract and keep new youth group members. Synagogue communities will be encouraged to use my music as a tool for congregational growth. Cantors and rabbis will find new ways to utilize my music in worship.

Over the years so many of you have asked for the special tunings (ala Joni Mitchell) that I play in . . . SO - I'm including them in the anthology! Now you'll be able to play my songs exactly the way I play them on the recording!

I am delighted to be developing The Peri Smilow Anthology with publishing and music industry veteran Joe Eglash of Eglash Creative Group. Joe created OySongs.com, the leading online source for Jewish music. As the Managing Director of Transcontinental Music Publications and URJ Press he masterminded the Ruach CD series (brilliant) and was the publisher of our beloved SHIREINU (which none of us Jewish musician/songwriters/songleaders can live without).

I hope that you will visit the Kickstarter page often during the course of this fundraising campaign. I'll be sending out regular updates to let you all know how we're doing. Remember - the way Kickstarter works we only GET the money if ALL of the money is raised by our July 10th deadline!!

I can't wait to fully fund this project – and to get a copy of The Peri Smilow Anthology into your hands.

With your help we can accomplish anything!

I'm deeply grateful!

Thank you!


Peri's music touches students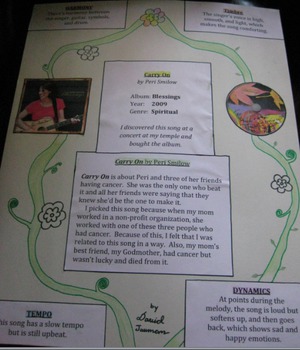 Peri recently received an amazing note from fan Laurie Skop of NJ! She wrote that one of Peri's songs moved her soon-to-become-Bar Mitzvah son to base a school music project on her song. She shared the poster that her son created based on Peri's song CARRY ON! Then she sent her son David's explanation of the project. Amazing! Thank you David and Laurie. Here's what he wrote:

I did this project for my music class during school. It was our end of cycle (18 days in a class) project that would make up most of our final grade. The topic was your favorite song or one you relate to well. Then we had to tell about the song, where you discovered it, include some photos, figure out some elements of music that the song uses, and make a poster out of it. I chose Carry On, by Peri Smilow. For the elements of music, I chose harmony, tempo, dynamics, and timbre. You can probably see the all the typed work on my poster so I really wanted to point out the symbolism in the background. You should be able to see four flowers on a vine, three being white and one being very colorful. The three white flowers represent Peri's three friends who have sadly passed away that she mentions in her song. The colorful one represents Peri because it is still alive, healthy, and beautiful. The vine shows that Peri and her friends are all still connected even though those three friends have passed. Those are all the things I put on my poster, and my music teacher, Mr. Shepard, though it was fantastic. Thank you, Peri Smilow!
BLESSINGS 2009
Blessings
is Peri's most recent release! It's a collection of intimate and uplifting songs based on Jewish blessings from gifted singer/songwriter Peri Smilow and Grammy award-winning producer Ben Wisch. These songs will feed your soul.